Maa Baglamukhi Mantra Sadhna and Siddhi
BY : STARZSPEAK
Ten Mahavidyas are mentioned in ancient Tantra texts. 1. Kali 2. Tara 3. Shodashi 4. Bhuvaneshwari 5. Chhinnamasta 6. Tripura Bhairavi 7. Dhumavati 8. Baglamukhi 9. Matangi 10. Kamala. The importance of Maa Bhagwati Shri Baglamukhi is the most special among all the goddesses. The main benefit of worshiping Baglamukhi and chanting Baglamukhi Mantra is to clear the illusions and confusion of the devotees and give them a clear path to life. Goddess Baglamukhi carries a cudgel in her hands to smash the troubles faced by her devotees.

The word Baglamukhi comes from the word Bagla or Valga, which means a saddle used to control a horse. This very powerful goddess is also known as Stambini Devi or Brahmastra Roopini. That is, it is strong enough to move the target without movement or movement. Worshiping Maa Baglamuhi and chanting baglamukhi mantra is a reliable way to take control of an enemy and defeat him. But ill-intentioned spells can only have a detrimental effect.

Story related to Maa Baglamukhi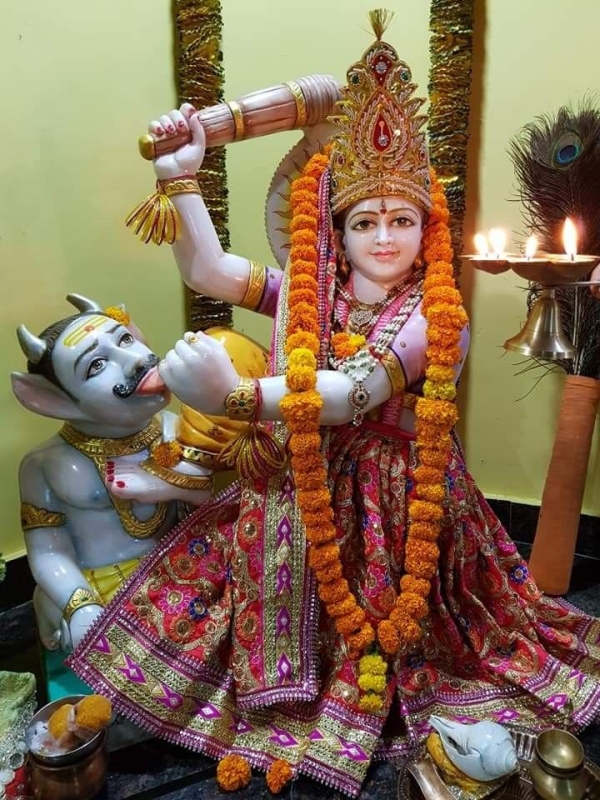 The entire universe was flooded during the Great Flood. The creature is almost completely destroyed. During this time, Lord Vishnu called the Mother of the universe to save creation. In response to her call to herself, the Great Goddess took the form of Baglamukhi and descended from Haridra Sarovar (sea cage). After landing, the entire universe was illuminated by her majesty. She landed on Chaturdashi on Tuesday and saved the creatures and gods by quickly calming the storm.

Another story of Maa Baglamukhi
One day, a demon named Madan performed great penance and got the boon that whatever he said would come true. Although it was a great blessing, he misused it to trouble innocent and pious people. Everyone and the gods pray to the goddess Baglamukhi, who pulled out the tongue of the demon to still it. When Baglamukhi tried to kill the demon, he prayed that he himself would reach a high level. Therefore, it is also known as Baglamukhi.

Precautions during Maa Baglamukhi Mantra Sadhana
Follow celibacy.
Wear yellow clothes.
Have one meal at the time.
Don't cut your hair.
Chant the mantra between 10 pm to 4 am.
Wrap the wick of the lamp in turmeric or yellow color and dry it. In meditation, this mantra with thirty-six letters is most fruitful.
Sadhana should be done alone, in a temple, on the Himalayas or by sitting with a Siddha Purush.

Method of mantra Siddha

The worship yantra of Shri Baglamukhi required in sadhna is made from gram lentils.
If possible, get it marked on a copper sheet or a silver sheet. The essential mantra is being given in brief so that when the seeker completes the mantra, then it will be convenient for him.
Baglamukhi gayatri mantra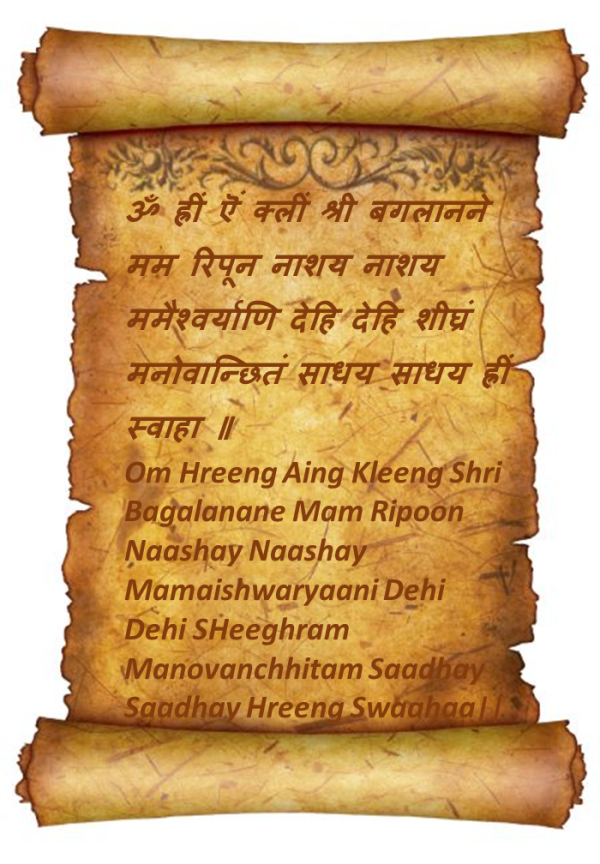 "Om baglamukhyae cha vidmahe stambhinyai cha dheemahi tanno bagla prachodayat."
Mantra Meaning:

I meditate on Goddess Baglamukhi who can make the enemies motionless. Let the powerful goddess bless me with a clear sight.
Baglamukhi Mool Mantra
"Aum Hreem Baglamukhi sarv dushtanaam vaacham mukham padam stambhyaJivhaam keelya, buddhim vinashya hreem aum swaaha"
Mantra Meaning:

The mantra has Bheej sounds of Baglamukhi. It prays the goddess to make the enemies ineffective by arresting their vicious speech, feet and intelligence. Once their movements are restricted, they can never act against you.
Baglamukhi Mantras to Succeed in all Efforts
"Om Hreeng Aing Kleeng Shri Bagalanane Mam Ripoon Naashay Naashay Mamaishwaryaani Dehi Dehi SHeeghram Manovanchhitam Saadhay Saadhay Hreeng Swaahaa"
Mantra Meaning:

Oh Mata Baglamukhi, we pray that you destroy our sins, bring prosperity into our lives and fulfill our desires.
How to recite the Baglamukhi mantra

Morning is the best time to recite the Baglamukhi mantra. Take a shower and sit on the rug or wooden board. Take a rosary and use it to count chanting of mantra. The optimal number for the Baglamukhi mantra is 125,000 times. While chanting, place a picture of Maa Baglamukha in front of you and focus on its shape.
Yellow flowers are the best flowers to worship Maa Baglamukhi.
Benefits of chanting Baglamukhi Mantra

Eliminates all hassles and adds confidence, fearlessness and courage
Fills the minds and hearts of devotees with positive energy to move on the path to success with a great deal of flexibility. The enemy will no longer be able to face you. When they try to oppose you, they will be powerless and their plans will be in vain and ineffective.
Students achieve good grades and plan to focus more on learning.
Devotees win battles and competitions.
If there are ups and down in your life, this mantra will help you balance the pros and cons and create harmony at home and in your life.
ALSO READ: Baglamukhi Yantra: A symbol of protection, success and strength