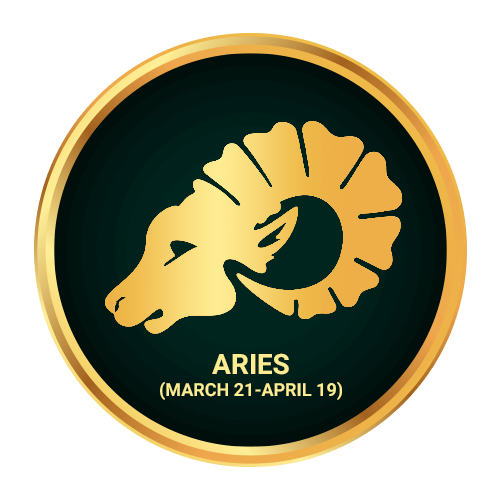 Date range: March 21 - April 19
Element: Fire
Quality: Cardinal
Color: Red
Day: Tuesday
Ruler: Mars
Lucky Numbers: 1, 9
Today's Horoscope
Today is a good day for all those who are in legal, teaching and creative field such as artists, writer, painters, etc. Creativity runs in your veins today and there is nothing that can hamper your creative edge. If you are planning to go for a new job just brush-up your knowledge. The day will mark the beginning of a better and clear relation between you and your partner. Today is an off day, you can meet up with old friends, cherish old memories. Financial front will be stable. You have been ignoring your health lately. Be cautious about your health. Something in blue will bring you luck.
Monthly Horoscope
The stars are aligned bringing luck to you. Personal front will be smooth because stars are in your favour. Your sincere efforts and hard work will pay you back. Trust and confidence are the building block of your relationship. You might need to face some struggle to make your relationship strong but efforts never go waste. Singles going by your intuition will give you whatever you desire. You may even find a romantic partner this month. Try to avoid from coming into the influence of negative people. Personal growth: With the family support, you will feel overwhelmed. Sincere efforts will help you gaining a lot in future. Career: People who are working in the medical industry are going to shine this month . Those who are working in this industry, stars are moving in your favour and you will benefit out of it. Others need to take important career decisions, time has come and you need to take important decision to change your job. Business - Moon in your sign is going to favour you and time for expansion plan and investment is on cards. Ups and downs in new venture are a part of business so, don't lose hope. Good time will be back soon. Some financial gain is on cards and purchase of a new property is beneficial for your business. Those who want to enter into new business venture, good time to take your plan into action.
Yearly Horoscope
Mars as your ruling planet will do a lot that you have to go through in 2020. It will be from family perspective to achieving professional goals, from broadening social networks to make your health perfect. This year your energy and enthusiasm will be unlimited.
Aries love horoscope 2020 - Aries today love horoscope
The year will begin at a low score for your love life but after is 23rd March, there shall be betterment in your love life. There would be a tremendous increase in love for your partner. Newly married people are likely to plan family. Singles you will get the perfect match after 2nd quarter of the year.
Aries Career, Profession and work horoscope 2020
It will prove to be an average year for your work. Your hard work and continuous efforts will help reap rewards. There will be ups and downs in professional life but you will be manage to sail through all the problems. Mantra for it - Don't trust people blindly and stay away from gossip mongers. Transfer and promotion could happen. Good time will come after 23rd May.
Aries Financial condition, Wealth, Property horoscope 2020
Financially the year will be wonderful. Jupiter in 2nd and 4th house will bring luck and you will have property, house and vehicle etc. There are probabilities of sudden financial gains after first quarter. You would be able to get rid of your financial crisis and loans.
Aries Business horoscope 2020
The beginning of the year is not very auspicious for success however the time period after July shall be substantially favorable. From April to July mid, you might suffer from some business loss. You are advised to do expansion of business after August 2020. In August, a new opportunity will bring huge benefits.
---
General
Traits
Strengths: Courageous, determined, confident, enthusiastic, optimistic, honest, passionate
Weaknesses: Impatient, moody, short-tempered, impulsive, aggressive
Aries likes: Comfortable clothes, taking on leadership roles, physical challenges, individual sports
Aries dislikes: Inactivity, delays, work that does not use his/her talents

Compatibility
Greatest Overall Compatibility: Leo, Sagittarius
Best for Marriage and Partnerships: Libra