Devipattinam Temple: History and Significance
BY : STARZSPEAK
Devipattinam temple or Navapashanam Temple is a Hindu temple dedicated to Navagraha, the nine planetary god, located in Devipattinam, Tamil Nadu, South India. It is a Hindu pilgrimage center in the Bay of Bengal. According to Hindu myth, it is believed that the nine clay figures of planetary theology were created by Rama's avatar.

Navgrahas: The nine deities


Hinduism believes that Navagraha has nine gods who govern the lives of people on Earth. These Navagrahas constitute the Hindu Astrology and they include:

Surya
Surya, the god sun, is considered the leader of the Navagrahas and the color associated with the sun god is orange. The day associated with it is Sunday.

Chandra
Chandra, the moon god, is very important because Hindus follow the lunar calendar and white is associated with it. Monday is connected with him.

Rahu
Rahu is considered the Planet of Shadows and is responsible for the eclipse of the Sun God Surya. Ultraviolet is a color associated with Rahu.

Ketu
Like Rahu, Ketu is considered the Planet of Shadows and is responsible for capturing the Moon or the God Chandra.

Shukra
Shukra, the god of the planet Venus, is a teacher of the asuras (demons). The color associated with Shukra is white. The day associated with it is Friday.

Shani
Shani, the god of Saturn, is worshiped as the God of justice, and the color associated with it is black. Saturday is an associated day.

Guru
Guru Graha, also known as Brihaspati, is the god of the planet Jupiter. Thursday is a day associated with it. Yellow is the color associated with it.

Mangal
Mangal, the God of Anger is the name for the planet Mars or Red Planet and hence the colour associated is Red. The day associated with him is Tuesday.

Buddha
It is God associated with the planet Mercury and green is the associated color. Wednesday is connected with the day.

Devipattinam Temple History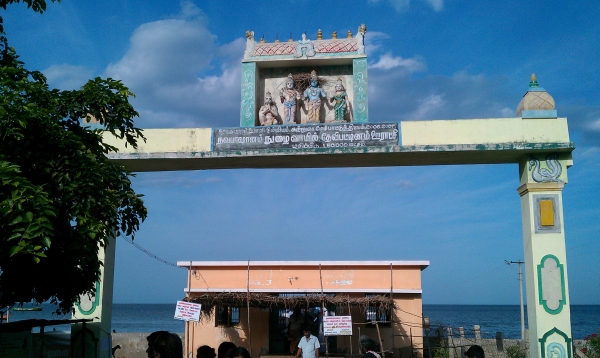 On one occasion an asur named Mahishasur tortured the gods of heaven with the blessings he received. The gods, in fear, turned to the goddess Parashakti to save them. At the request of the God of heaven, the goddess Parashakti came to fight the demon Mahishasuran. The demon feared the goddess and hid in the Theertha Chakra in Devipattinam. Parashakti sucks the lotus chakra with its power and destroys Mahishasura. The gods rejoiced in the destruction of Mahishasura and poured Elixir on the goddess. Devipuram thus changed to Devipattinam.

Incarnation of Rama
King Ravana of Sri Lanka meditated on Brahma, the God of creation, and as a result received a blessing that the gods and asuras could not kill. But Ravana does not talk about human, which is the reason behind Rama's body.

Ravana lured Rama's wife Sita and captured her in Ashokavan, and Rama came to help Sita. According to customs and traditions, Ganesha and Navagraha must be puja before you can do anything. So Rama worshiped Ganesha in Ramanathapuram district, now known as Uppur Veilukanda Ganesha, and came to worship Navagrah at Devipattinama temple, 15 km away.

Devipattinam temple or Navpashanam Temple Special Features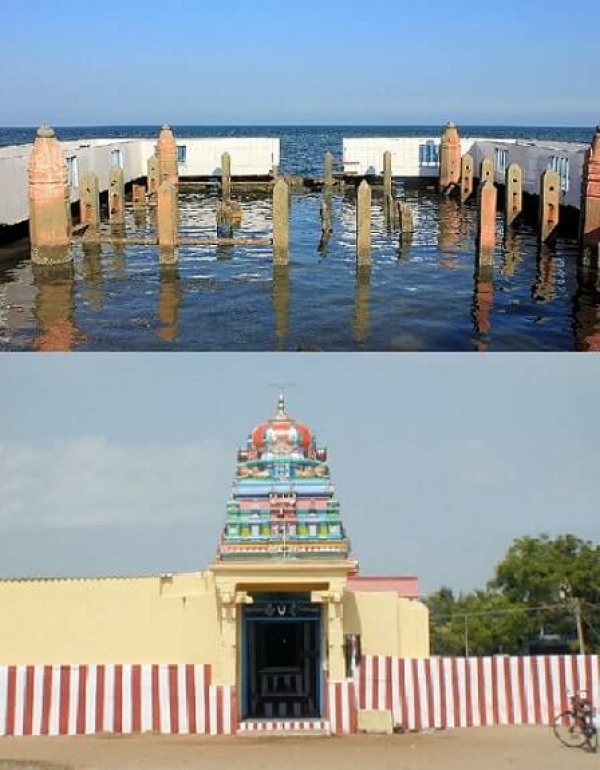 Navapashana Navagraha is located in the middle of the calm sea
What adds even more expertise is that the Navagrahas were made by Lord Rama with nine handfuls of sand
The beauty of the place is that the devotees can anoint Navagraha with their own hands
This is the place where Lord Rama rectified his ShaniDosha
It is believed that if we visit this temple once, our past sins will be forgiven
Divine Shiva and Goddess Parvathi blessed Lord Rama and therefore ascended here as SoundaryaNayaki next to Tilakeshvarar.
Located in the south, surrounded by the sea, Devipuram is also called Devipattinam temple, where Lord Rama built a bridge to Sri Lanka to save his wife Sita.
Those who want to make Pitra Tarpana can do it here

Devipattinam Temple Festival

The temple celebrates the 10-day festival of the Tamil month "Aadi" (mid-July to mid-August). Static notes that about 1 lakh devotee comes here to pray during the festival.
Similarly, a large number of devotees gather here in Thailand (January) to pray on the Moonless Day.
Devipattinam Temple timing

Devotees can pray at the Devipattinam temple all days of the week from 4.30 am to 6.30 pm.
ALSO READ: Om Parvat: The sacred Mountain where Lord Shiva reside