5 mukhi Rudraksha is very important because it is believed that this kind of Rudraksha is blessed by Lord Shiva himself in the form of the Divine Kalagni Rudra. When a person wears this Rudraksha with full devotion and sincerity, all his sins are erased. This Rudraksha, ruled by the planet Jupiter, is often referred to as Devguru, the Guru of all Devas.

Of the available options, Panch mukhi rudraksh is the most popular among all the rudraksha. It represents almost 50% to 60% of Rudraksha's total production. Of the various species available, the Indonesian Rudraksha is the smallest in size.

This type of Rudraksha is believed to be more beneficial for wearing near heart and can be used for dealing with heart disease, stress, anxiety, high blood pressure, etc.

Panch mukhi rudraksh are available in several varieties and the most original and strongest are Nepali and Indonesian varieties. Nepalese beads are larger, mukhi (front) lines are engraved deeper and are more developed and stronger than Indonesian beads. The panch mukhi rudraksh of the Indonesian type are relatively small in size with a softer surface and mukhi lines. Since the surface of Nepali beads is larger than Indonesian Rudraksha, the frequency of various treatments in Nepali beads is higher and the intensity and the results seem to be faster. But so far the benefits of these two types of 5 mukhi Rudraksha are the same.

Mantra for Panch mukhi rudraksh
"OM HREEM NAMAH"

Importance of 5 Mukhi Rudraksha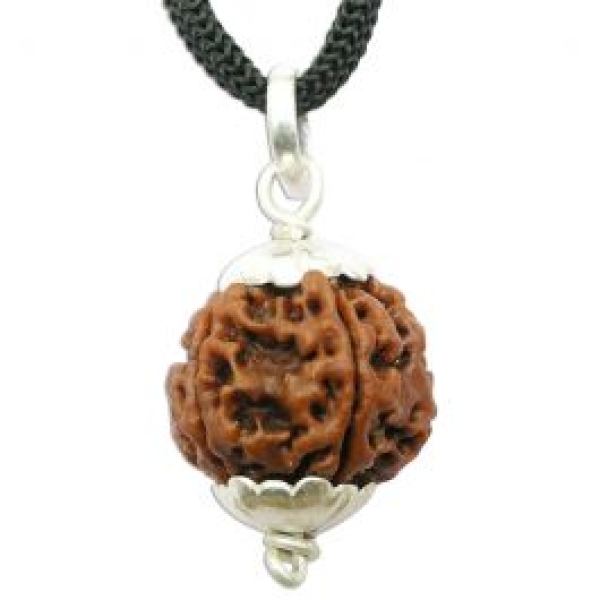 Eliminate the harmful effects of the planet Jupiter
It increases your understanding and self-awareness
It is mainly used for casting and reciting spells
Develop wisdom and knowledge

Benefits of 5 Mukhi Rudraksha
It helps to overcome intellectual weakness and gain spiritual beliefs and thoughts
Very useful for students, scientists, teachers, writers, journalists and researchers.
Highly recommended for those preparing for competition exams
It helps singers and public speakers succeed in their fields.

Therapeutic Benefits
It helps those who are timid, shy or depressed and gives them a sense of uniqueness, self-worth and successful creativity.
Provides relief from asthma and other respiratory disorders.
It helps in the treatment of diseases related to the thyroid gland.

Additional Benefits
Men and women with blood pressure and cholesterol problems should wear Panch mukhi rudraksh. These are also effective for digestive disorders.
Lower cholesterol, maintain blood pressure. Good for health. The three balls should be soaked in a glass of water every night and eaten first in the morning. The beads are then placed in a bowl and allowed to dry, preferably in the refrigerator.

How to wear 5 Mukhi Rudraksha

Remember to energize before using Rudraksha. Thursday is the best day to wear Paanch Mukhi Rudraksha. Woke up early on a Thursday morning. Take a bath and wear clean clothes. Sit facing towards north and chant "Om Hreem Namah" 108 times and wear Rudraksha. The best way to wear these fine beads is to wear them with silk / wool thread or cover them with silver or gold. You can wear these Rudraksha beads around your neck or put them in a silver or gold basket as a bracelet or as a spatula made of beads 27 + 1 or 32 + 1 or 54 + 1 or 108 + 1. The beads must be close to the skin to fit in the appropriate chakras. There is no need to rub into the skin until the beads are fully effective.
5 Mukhi Rudraksha Puja

Sit on the northwest side of your house. Take a copper bowl, mix water and holy "marijuana". Now add Panch mukhi rudraksh and gently wash it. Now take 9 leaves of peepal tree and place them on a copper plate. Place 5 Mukhi Rudraksha on the latter. Now, with the help of fresh flowers, Rudraksha beads washed with a mixture of pure water and marijuana. Now place sandalwood on Rudraksha and put fresh flowers on it. Features dhoop to rudraksha. Now chant Om Hreem Namah 108 times with a clear mind. Panch mukhi rudraksh can be worn with silk / wool fibers or coated with silver or gold. You can wear these beads on your neck or as a bracelet. The beads need to touch the skin to activate and act in a certain area.
Precautions for 5 Mukhi Rudraksha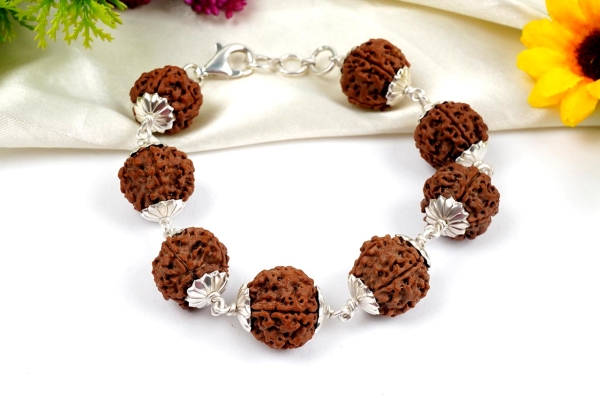 Panch mukhi rudraksh from a reputable supplier should only be wore or placed in a puja room.
As stated in the Mool Mantra and the Beej Mantra and the Jabalo Upanishad, the energetic Abhimantrit Rudraksha should only be worn after proper practice.
When you find time to revive Rudraksha during the day after you have dressed, you should recite the mantra below. The mantras are Om Hreeng Namah and Om Namah Shivaye. The correct pronunciation of the word is in the Hreeng mantra, not in the Hreem, as ordinary people say.
5 Mukhi Rudraksha should be covered with gold or silver or Panchdhat and should be worn around the neck or bracelet or placed in a place of worship.
Sitting in the morning by the window in the Northwest (if possible), after wearing Panch mukhi rudraksh will rejuvenate you and Rudraksha.
Day for wearing is Monday after taking a bath in the morning before 12 noon. While wearing continuously chant the mantras written above for 3 times or multiple of 3 times.
When wearing rudraksha, they must touch the body.
ALSO READ: 6 Mukhi Rudraksha benefits, importance, significance and power