Meaning| importance and benefits of Maruti Stotra
BY : STARZSPEAK
Holy (Holy) Samarth Ramdas composed the words of Maruti Stotra. He was a Hindu saint and poet in the 17th century. "Maruti Stotra" was written in simple Marathi by Samarth Ramdas. The first thirteen Shloka describe Hanuman's qualities and goodness, while the last fourteen Shloka describe "Valshruti" to chant this sutra.
To inculcate proper Sanskar in their children, parents teach them Stotra. People who exercise to strengthen their bodies are also Maruti followers who chant Maruti stotra.
Chanting the Hanuman mantra on a regular basis increases a person's strength and makes them appear victorious in any setting.
Ghosts and demons will never bother anyone who recites Hanuman Mantra on a daily basis. Chanting the Hanuman mantra is believed to help people overcome health problems like Kuma.
Many people today are dealing with failed marriages, mental health issues, and financial difficulties. Chanting the Hanuman mantra gives you the positive energy to help you overcome your problems. Chanting the Hanuman mantra daily will bring you success in life, this phrase gives you strength to fight even in the most difficult situations, the Hanuman mantra increases your productivity at work. You have the ability to work longer hours and inspire others.
Maruti Stotra Lyrics:

Bhimrupi Maharudra Vajrahanuman Maruti |
Vanari Anjanisuta Ramdoota Prabhanjana || 1 ||


Mahabali Prandaata Sakla Uthvi Bale |
Soukhyakari Dukh Hari Dhoort Vaishnavgayaka || 2 ||


Deen-Natha Harirupa Sundara Jagdantra |
Pataldevatahanta Bhavya Sindoor Lepana || 3 ||


Loknatha Jagannatha Prannatha Puratana |
Punyavanta Punyashila Pavna Paritoshika || 4 ||


Dhvajange Uchali Baho Aaveshe Lotla Pudhe |
Kalagni Kalrudragni Dekhta Kaapati Bhaye || 5 ||


Brhmandi Maaeelee Neno Aavale Dantpangati |
Netragni Chalilya Jwala Bhrukuti Tathilya Balein || 6 ||


Puchh Te Murdile Maantha Kiriti Kundale Bari |
Suvarn Kati Kasoti Ghanta Kinkini Nagara || 7 ||


Thakare Parvata Aisa Netka Sadpatalu |
Chaplang Pahta Mothe Mahaviddyullatepari || 8 ||


Kotichya Koti Uddane Jhepave Uttarekade |
Mandradrisarikha Dronu Krodhe Utpatila Balein || 9 ||


Aanila Maguti Nela Aala Gela Manogati |
Manaasi Takile Maage Gatisi Tulna Nase || 10 ||


Anu Pasoni Brahmanda Evadha Hot Jaatse |
Tayasi Tulna Kothe Merumandar Dhakute || 11 ||


Brahmanda Bhovte Vedhe Vajra Puchh Karu Shake |
Tayasi Tulna Kaichee Brahmandi Pahta Nase || 12 ||


Aarakt Dekhile Dola Grasile Suryamandala |
Vadhata Vadhata Vaadhe Bhedile Shunyamandala || 13 ||


Dhan-Dhanya Pashuvrudhhi Putrapautra Samastahi |
Pavati Rupvidyadi Stotrapaathe Kariniya || 14 ||


Bhut Pret Samandhadi Rogvyadhi Samastahi |
Naasati Tutati Chinta Aanande Bhimdarshane || 15 ||


He Dhara Pandhara Shloki Labhali Shobhali Bhali |
Drudhdehon Nisandeho Sankhya Chandrakalagune || 16 ||


Ramdasi Agraganyu Kapi Kulasi Mandanu |
Ramrupi Antaratma Darshane Dosh Nasti || 17 ||



Iti Shri Ramdaskritam Sankatnirsanam Shri Marutistotram Sampurnam ||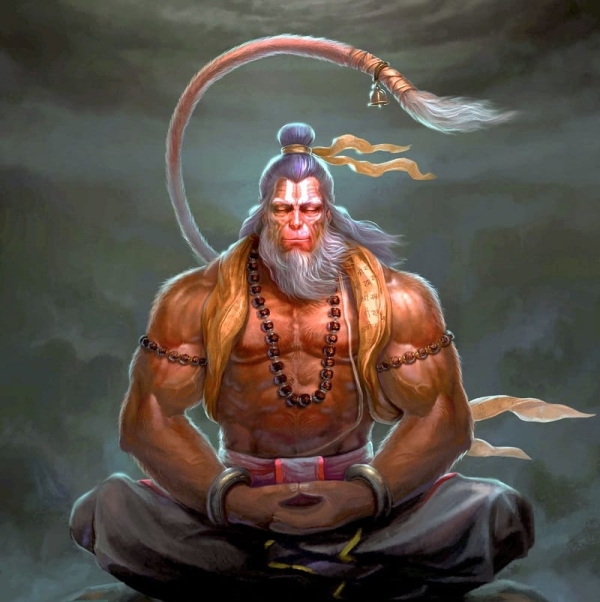 The process of chanting Hanuman Stotra:
Paksha Shukla, Tuesday is a good day to recite the Maruti Stotra or Hanuman Chalisa. Anyone who wants to start the chant without waiting for the results can do so at any time.
If you chant silently, Brahma muhurtham is useful for chanting the mantra and produces very quick effects.


You can sit facing north if you have a specific desire to sing it. You can sit facing east if you read it without expecting any results.


You must sit on the red velvet aasan while chanting the mantra; Do not sit upright on floor or ground. The statue of Lord Anjana or the picture frame should be kept while repeating the Hanuman mantra. This idol or image must not be allowed to fall to the ground.


Then, in front of the idol, lit Diya with sesame oil and an incense stick or dub.


You should also maintain a meditative state and concentrate on reciting the mantra.


This is how the Hanuman Mantra or Hanuman Chalisa is sung.



Best time to chant Maruti Stotra:
It is mentioned that if the magical mantras of Hanuman ji are repeated on Tuesday and Saturday, then the person will be successful. On Tuesday, a person is protected from delusional obstructions and other negative energies by saying the above mantra. This mantra is very useful when chanting.

Also Read: Hanuman Stotra: प्रत्येक मंगलवार को करें हनुमान जी के इन मंत्रों का जाप, हर संकट होगा दूर