There are many such sadhnas and fasts mentioned in our scriptures, by which sadhaks and devotees can fulfill their inherent purposes and desires. Fasting done with full devotion is definitely fruitful. There are many such fasts in Hindu religion, by which a person can get benefits in his life, but Pradosh Vrat has a very important place in Sanatan Dharma.

Pradosh-Vrat is performed to obtain the happiness and blessings of Chandramauleshwar Lord Shiva. Lord Shiva is also called Ashutosh, which means the one who gives blessings by being happy soon. The special grace of Lord Shiva is obtained by performing Pradosh-Vrat with devotion.

Five Pradoshas and their special significance

Ravi Pradosh: Pradosh which occurs on Sunday is called Ravi-Pradosh. Ravi-Pradosh fast is observed for longevity and health. By observing Ravi-Pradosh fast, the seeker gets health and good health.
Soma Pradosh: The Pradosh which occurs on Monday is called Soma-Pradosha. Soma-Pradosh Vrat is observed for the accomplishment of a particular task. By observing Soma-Pradosh fast, the seeker's desired work is accomplished.
Bhaum Pradosh: The Pradosh which occurs on Tuesday is called Bhaum-Pradosh. Bhaum-Pradosh Vrat is observed for debt relief. By observing Bhaum-Pradosh fast, the seeker gets freedom from debt and financial troubles.
Guru Pradosh: The Pradosh which occurs on Thursday is called Guru-Pradosh. Guru Pradosh fast is especially for women. This Vrat is observed for marital happiness, husband happiness and good fortune.
Shani Pradosh: The Pradosh which occurs on Saturday is called Shani-Pradosh. Shani Pradosh Vrat is observed for the attainment of children and for the progress and welfare of children. By observing Shani-Pradosh fast, the seeker gets child happiness.

How to do Pradosh Vrat

It is observed on Trayodashi Tithi of every month. The date of Pradosh fast is given a special mention in all the Panchags. According to the day, the importance of Pradosh fast increases even more. For example, Pradosh fast on Monday is known as Soma Pradosh, Pradosh fast on Tuesday is known as Bhauma Pradosh. The Pradosh coming in these days is particularly beneficial. After taking bath in the morning on the day of Pradosh, Lord Shiva should be worshiped as Shodashopchar. One should break the fast by taking only fruits during the day and worshiping Lord Shiva during Pradosh Kaal.
What is Pradosh Kaal

Pradosh Kaal is very important in Pradosh fasting. It is necessary to complete the worship of Lord Shiva during Pradosh Kaal on the day of Pradosh. According to the scriptures, Pradosh Kaal lasts for 2 hours (48 minutes) from sunset. Some scholars accept it by difference of opinion till 2 hours before sunset and 2 hours after sunset. But in authentic scriptures and fasting texts, Pradosh Kaal is considered to be only 2 hours (48 minutes) from sunset.
10 Rules of Pradosh Vrat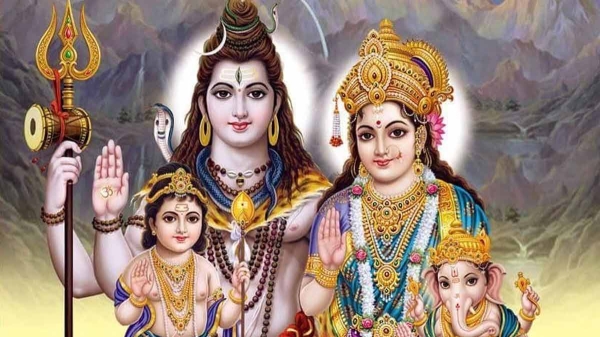 On the day of Trayodashi, wake up in the Brahma Muhurta and take a bath while meditating on Shiva, and put black sesame seeds in the bathing water.
Clean washed clothes should be worn on this day, keep in mind that it should not be mutilated.
Spend the whole day meditating on Shiva and chanting mantras.
After anointing Lord Shiva with Ganga water and cow's raw milk, offer cannabis, datura, bilvapatra, honey, white flowers etc. to him.
Worship Lord Mahadev again in the evening in Pradosh Muhurta, take bath yourself before worshiping.
For fulfillment of special wishes, go to the temple and do Shivabhishek with milk, curd, ghee, honey, black sesame etc. and keep chanting Om Namah Shivay at this time.
Keep fast on this day and take only fruit food.
Perform aarti of Lord Shiva with incense, lamp and fragrant incense sticks and offer naivedya.
Go to the banks of the pond or river and feed flour tablets to the fish and donate food and clothes to the poor.
On the day of Pradosh, offer raw milk containing black sesame seeds to Lord Shiva and donate black sesame seeds, it will get rid of Pitra Dosh, and the souls of ancestors will get peace, wealth, and fame.

10 Mantras of Lord Shiva for Pradosh Vrat

Om Namah Sivay
Om Ashutoshaay Namah
Om Shivay Namah
Om Namo dhandaay swaha
Om hreem namah shivay hreem om
Om en hreem shiv gorimaya hreem en un
Om tatpurusaay vidmahey, mahadevaaye dheemahi, tanno rudra prachodayat
Om shram shreem shrom she somaay namah
Om hreem joon she bhoorbhava sva, om triyambakam syaja mahe sugandhimpustivardhanam, urvarookmiv bandhnannmrityormurkshiyemamritaat, om svh bhuvh bhuh om she joon haum om
Om mrityunjay mahadev trahimam sharnagatam janm mrityu jara vyadhi peeditam karm bandhanh

10 worship material for Pradosh vrat
Fresh Flowers and Garlands
Bilvapatra
Dhatura
Flower of aankde
Ganges water and water
Cannabis
Camphor
Sunshine
Cow's pure ghee lamp
Black sesame