Kartik Purnima
Kartika is the eighth lunar month in the Hindu calendar. The Purnima that occurs during the month of Kartika is known as Kartika purnima. Kartika Purnima celebrations begin on the day of Prabodhini Ekadashi, also known as Devuthanna Ekadashi. Since Ekadashi is the eleventh day and Purnima is the fifteenth day of the Kartika month, Kartika Purnima is celebrated for five days. Kartika Purnima is very important as many rituals and festivals conclude on this day. Kartika Purnima is also known as Tripuri Purnima.

Here are the five-day festivals of kartika purnima which we celebrate:
Tulsi Vivah

Bhishma Panchaka

Vaikunth Chaturdashi


Dev Diwali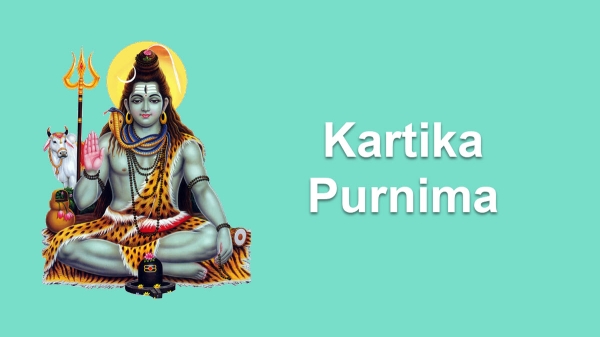 Tulsi Vivah: usually begins on the day of Prabodhini Ekadashi and ends on the day of Kartika Purnima. According to Hindu scriptures, Tulsi Vivah can be celebrated on any possible day between Ekadashi and Kartika Purnima, in the Hindu month of Kartik. Most of the people perform the marriage ritual of Goddess Tulsi with Lord Shaligram, who represents Lord Vishnu, on tripuri Purnima's day.
Fast Bhishma Panchaka: starts with Prabodhini Ekadashi and ends on Kartik Purnima Day. According to Vaishnava culture, the Bhishma Panchak fast during the last five days of the month of Kartik is of great importance. He is also called as Vishnu Panchaka.
Vaikunth Chaturdashi: Puja is performed one day before Kartika Purnima. Followers of Lord Vishnu fast on this day. According to Hindu mythology, Lord Vishnu used to worship Lord Shiva on the day of Vaikunth Chaturdashi, during Shukla Paksha, by offering him a thousand lotus flowers. Shiva temples on this day offer a special puja performance where Lord Vishnu is worshiped along with Lord Shiva. On this day, devotees observe Kartik Purnima Ganga Snan by bathing in the holy river Ganges at Manikarnika Ghat in Varanasi before sunrise.
Dev Diwali: known as Diwali of Gods, is celebrated on Kartika Purnima day. Ancient Hindu scriptures describe that the demon Tripurasura was killed by Lord Shiva on this day, which is why Kartik Purnima's is also known as Tripurari Purnima in Marathi. The myths describe that the gods were overjoyed at the death of Tripurasura and thus celebrated tripuri purnima as Diwali, lighting earthen days in all the temples and on the bank of the Ganges river.
Significance of Kartik Purnima

According to Hindu mythology, this Kartik Poornima day has religious and spiritual significance. Performing Kartik Snan and worshiping Lord Vishnu on this day is believed to bless devotees with immense wealth. tripuri Purnima is one of the most blessed days to perform religious ceremonies, and auspicious ceremonies performed on this day are believed to bring joy and happiness. It is also believed that performing Kartik Snan during the month of Kartik is equivalent to performing 100 Ashvamegha Yagya.
Kartika Purnima's Vrat:



Ganga Snan, Lighting Lamps (Deep Daan), Hom (Aahuti), Yagya and deity worship during Kartik Purnima are of great importance. The rituals that are performed on this day are the following:
Get up in the morning and vows for fast. Take a Bath in a sacred river, lake or pond.





One must worship the six creations named Shiva, Santati, Preity, Anusuya and Kashama during moonrise.





By fasting and donating an ox on the night of Kartik Purnima, one reaches Shiv Pada.





Donating a cow or elephant, horse, chariot (ratha) or ghee on this day rewards the person by increasing the possessions.





Donating sheep reduces the harmful effects of the yugas by aligning the planets.





From

tripuri

Purnima onwards, if a person fasts for every Purnima and sings devotional songs (Jagrans) during that night, all your wishes will come true.





Who fasts on Purnima must perform havan and feed the needy and the poor on this day.





One should end the fast by taking a bath (Kartik Snan) in the river Yamuna and then lighting lamps (Deep Daan) while worshiping Radha-Krishna.
Read More - जानिए कब है षटतिला एकादशी व्रत, साथ ही पढ़ें महत्व और पूजन विधि भी