5 Most Effective Hanuman Mantra for Success and Harmony
BY : STARZSPEAK
Hanuman Mantra: Chant these five miracles to Hanuman Ji, you will succeed
Bajrangbali Mantra: Hanuman Ji is worshiped on tuesday. If the person is unhappy, he should worship Hanuman Ji. Bajrangbali worship is very effective in destroying pains. It is believed that the blessings of hanuman always remain on those who pay attention to them and chant his mantra. Along with this, all the troubles and hardships in your life also end. It is said that if every Tuesday and Saturday they chant miraculous Hanuman slogans, then a person achieves success.
5 Miracle Hanuman mantra: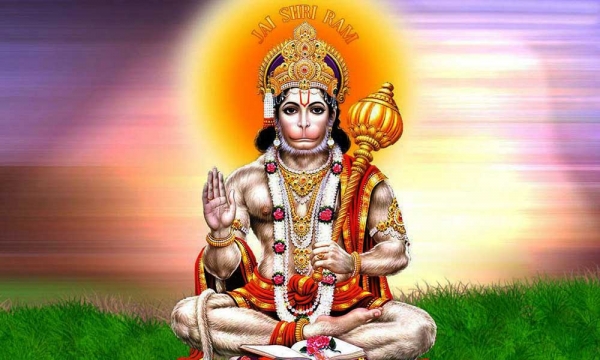 1. ॐ दक्षिणमुखाय पच्चमुख हनुमते करालबदनाय- (Om Dakshinmukhy Pachamukh Hanumate Karalbadnay -)
By repeating the above mantra on Tuesday, a person avoids the illusory obstacle and other negative forces.
2. नारसिंहाय ॐ हां हीं हूं हौं हः सकलभीतप्रेतदमनाय स्वाहाः (Narasimhaay Om ham him hun han h sakalbhit pretdamnay swaah)
The repetition of this hanuman mantra is very beneficial. It should be repeated 11 or 21 times. This mantra also protects against the illusory barrier and other negative forces.
3. ॐ पूर्वकपिमुखाय पच्चमुख हनुमते टं टं टं टं टं सकल शत्रु सहंरणाय स्वाहा। ( Om Purvakapimukhay pacchmukh Hanumate tam tam tam tam tam tam Sakal Shatru saharanaye swaha.)
If this mantra is repeated on a Tuesday or Saturday, a person will not dominate his enemies.
4.मर्कटेश महोत्साह सर्वशोक विनाशन। (Mercatesh Mahotsah Sarvshok Vinashan)
Repeat the above hanuman mantra 108 times on Tuesday. This removes the obstacle to getting a job.
5. मंगल भवन अमंगलहारी द्रवहु सो दशरथ अजिर विहारी। (Mangal Bhavan Amangalhari Dravhu So Dasaratha Ajir Vihari.)
All the suffering of a person is eliminated by chanting this mantra. In addition, wishes also come true. This mantra can be recited daily.
6- ऊं हं हनुमते नम: (Om ham Hanumate Namah:)
By repeating this hanuman mantra, one feels relieved from all suffering and illness. This mantra is very useful.\