Dwayne Johnsan Future Predictions
BY : STARZSPEAK

Dwayne Douglas Johnson, also known by his ring name The Rock, is an American actor, producer, singer, and professional wrestler who hold American and Canadian citizenship. Johnson is most known for his WWF/WWE career, in which he was nicknamed "The Rock." The Rock has won seventeen total championships. In 1991, he won the national championship playing defensive tackle for the University of Miami. Johnson has retired from pro wrestling full time, now only making the occasional appearance on WWE productions. He has starred in many films such as The Scorpion King and The Fast and the Furious franchise. Today we will analyze his planetary positions and the reason behind his name and fame through the astrological point of view.
Biography of Dwayne Johnson


Name: Dwayne Johnson
Date of Birth: Tuesday, May 02, 1972
Time of Birth: 06:02:00 pm
Place of Birth: San Leandro, California, US
Longitude: 117 W 59
Latitude: 35 N 7
Time Zone: -5.0
Zodiac sign of Dwayne Johnson
Rasi/ Moon Sign: Scorpion
Nakshatra or star constellations: Jyeshtha
Star Sign/ Zodiac Sign/ Sun Sign (Western): Taurus
Star Sign/ Zodiac Sign/ Sun Sign (Indian): Aries
Birth chart of Dwayne Johnson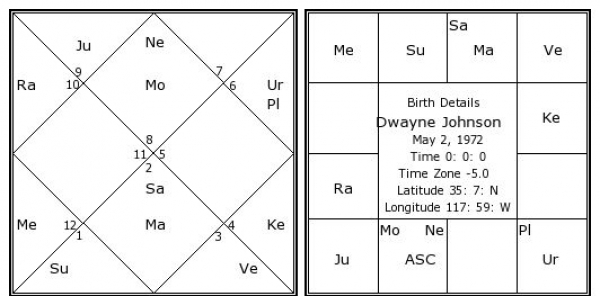 Dwayne has both lights, the Sun and the Moon, in trustworthy and dependable earth signs of Taurus and Capricorn respectively. In an interview, her eldest daughter said that he trusts him a lot and they share a great father-daughter relationship. This is an example of his earthy planets. His ascendant is in the sign of Libra, contributes charm to his personality and his popularity too. Dwayne's Moon is in the sign of Capricorn (2 degrees) making a wide but applying conjunction to Jupiter (8 degrees). When a planet finds itself in less favorable position then due to these placements the native must work harder to solve his problems and Dwayne is a core hard worker.
The relationship between the Sun and the Moon represented by the lunar phase is also an important feature of the birth chart to consider. For Dwayne, his lunar phase is in the disseminating phase, (135-90 degrees behind the Sun). The reason behind this moon phase is the sharing of knowledge which he has gained through his life experiences and Dwayne is popular for his charity work.
The sign that rules Dwayne's career (the Midheaven), is Cancer. The ruler is the Moon, so shifts in his progressed Moon will highlight shifts and changes in his professional as well as personal life.
In the first year of his WWE (1996), Dwayne's progressed Sun conjoined his natal Saturn, demonstrating that his new life direction would have longevity. This is known as progressed lunar which every individual experience at the age of 27-28.
In 2001, when his first daughter was born, Dwayne's progressed Moon and his natal North Node were both at 27/28 degrees of Capricorn. This positioning indicated that his emotional life has changed forever. In the same year, Dwayne also experienced the return of his Saturn.
In 2011 Dwayne's enters a progressed New Moon phase. This is the beginning of a brand new cycle for him. Not only did he make a return to wrestling after a nearly seven-year, but he also starred in Fast and Furious, Fast Five, produced by Universal Studios. When he entered into New Moon phase he again makes come back to his roots which have given him the fame that is wrestling and Universal Studios.
Future predictions of Dwayne Johnson 2019
Taurus is having an earthy element and is governed by the planet Venus. This year will pay off your all hard work. From May 2019, September 2019 you will have to put more effort. This year Dwayne will find an iron will with him and an unmatched ambition too. He will get rewards. Chances are there that he will find changes in the financial area at the beginning of April and will continue until June. During this period of time, he should be careful while making any financial decisions. Venus is not only your ruling planet but will go through its bi-annual retrograde this year. It will remain in your financial sector from early April until early August and move into the `retrograde' phase on Monday 17 May. Growth in your interpersonal intimacy and love can be seen in August and it will be at its peak in September. Some changes in the career front can be seen in this year. You will add more quality to your work life during June and July 2019.
This year you should be careful regarding your health especially at your alcohol or medication intake. Sweet food and sugar may be an issue for you. Try to make changes in your meal plan from April to June and you will notice the positive changes. It is recommended to have a healthy lifestyle.
This year will be a peaceful year for you on your family front. So will enjoy harmony and get recognized for all your contributions.
Well, have a great year ahead of Mr. Rock and happy birthday…