Aries Finance Horoscope
Based on the Aries Financial Horoscope 2023, there will be financial stability and opportunities for financial growth for Aries natives throughout the year. However, your costs will go up as well. Jupiter in the twelve houses will cause expenses related to religious work and other activities until April, but Saturn in the eleventh house will make you financially powerful and enhance your income. You'll perform charitable and giving work. Unnecessary expenditures will start when Rahu enters the twelfth house between October and December. According to your Aries horoscope for 2023, you must exercise extreme caution during this period because these expenses could cause disruptions in your financial situation.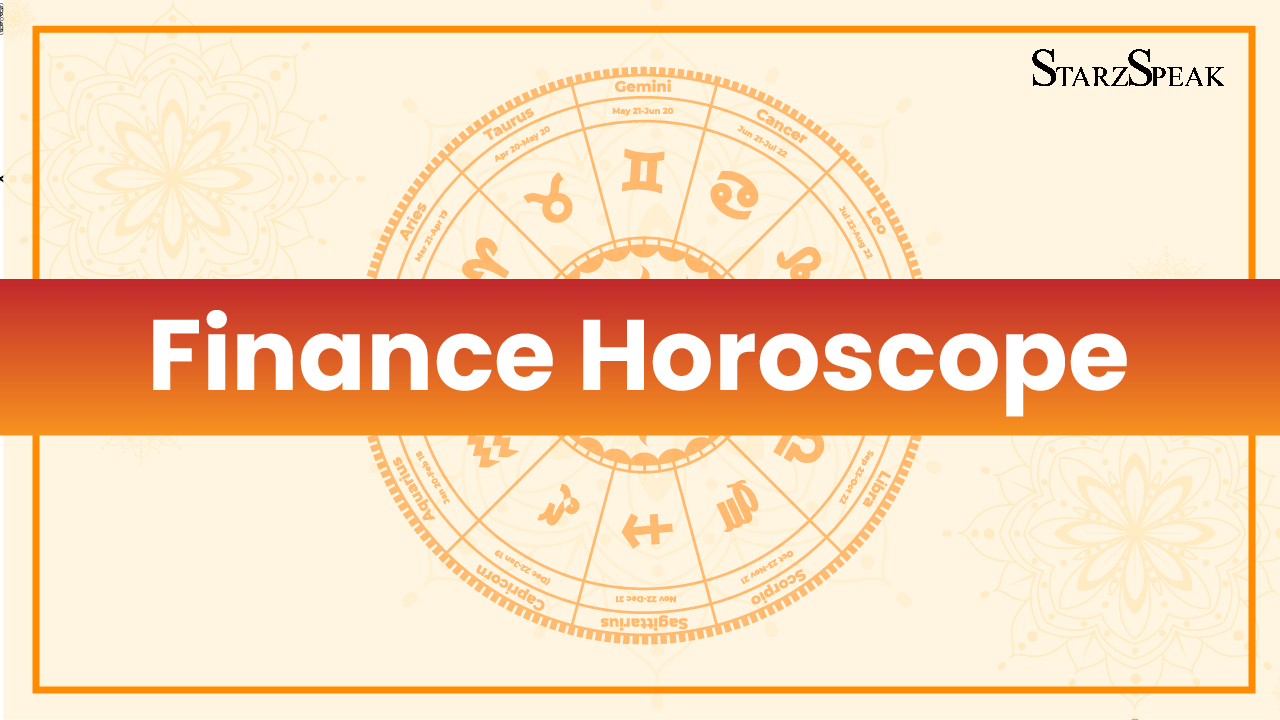 Taurus Finance Horoscope
According to the Taurus Financial Horoscope 2023, those who were born under this sign will go through ups and downs in their financial condition during the entire year. The financial situation will be stable between January and April, and the new year will get off to a good start. Many expenses will increase from April to October, despite the fact that there will be opportunities for you to get money in a variety of ways and that it is likely that you will get it during this time. You will have to spend a lot of money on religious and auspicious events, and you will also have to pay a lot of unnecessary charges that you don't want to. Money will be spent on some outings and even some illnesses between October and December as expenses start to go down and your income starts to go up.


Gemini Finance Horoscope
The Gemini financial horoscope for 2023 predicts that this year, Gemini locals should be in a solid financial position. Due to the Saturn-Venus conjunction in your eighth house at the beginning of the year, your financial situation will be precarious. Mars will be retrograde in the 12th house, which denotes an increase in your spending, but because Saturn will transit the 9th house in January, things will change. You will experience positive financial outcomes when Jupiter transits the 11th house in April, after which Venus will also transit and shift the zodiac. You'll find some excellent options that are crucial to your ability to build stability in your finances. You can make significant cash gains from April to August in the middle of the year. According to the Gemini 2023 Horoscope, there may be opportunities to make money in the public sector at this time. After that, you'll be able to save some money between September and November, and the month of December may also be profitable financially.
Cancer Finance Horoscope
While there will be financial ups and downs during the year, the Cancer financial horoscope for 2023 says that you will also occasionally find success. At the start of the year, Mars will be retrograde in your eleventh house, which will continue to increase your earnings. In addition to promoting luck, Brihaspati Maharaj will ensure that you achieve all of your goals and that your financial position improves. With any luck, the financial position will remain favorable through April. An increase in your income is also predicted by Surya Maharaj, who occupies your eleventh house in April. Shani Dev Maharaj will remain in your eighth house for the entirety of the year; therefore, you should exercise caution while making any large investments as they could put your finances at risk. There could be a modest increase in tension between May and July. Worries about money will occasionally surface. However, your bank account will increase in August when the Sun passes through your second house. According to the Cancer 2023 horoscope, you will need to move slowly between September and October because you will be experiencing some financial challenges during this time. Your finances will also be impacted by the additional expenses you will have for your family. In November and December, an essential household purchase will be pricey, but December will see a large increase in your income.
Leo Finance Horoscope
According to the Leo financial horoscope for 2023, those born under the sign of Leo will have a prosperous year. By the favor of the Sun, the new year will get off to a great start and bring you great luck. The Sun's placement in the eleventh house gives you a chance to receive large financial benefits for your efforts. Saturn's transit in the seventh house will raise business revenues, and you will start to notice benefits when Jupiter's transit enters the ninth house.
According to your Leo horoscope for 2023, the best time to work in the public sector will be between April and June, when there is a good chance you'll get paid well for your current position. Rahu's transit through the ninth house in October may be distressing since you can experience financial loss. If you make any investments during this period without careful consideration, you can also be short on cash.
Virgo Finance Horoscope
The first part of the year will be good, according to the Virgo Horoscope 2023, although inhabitants of the Virgo zodiac should exercise caution in matters of money this year. The conditions will be favorable, especially from January through the end of April, and during this time you can make any changes you want to your financial situation. The time leading up to Jupiter's journey in the 8th house with Rahu, which will occur at the end of October, will be difficult if you want to make any investments. You'll experience financial difficulties. If you participate in stock market betting, lotteries, or other forms of gambling, you will likely lose money this month and feel weak financially, but after October, the months of November and December will bring you good results and allow you to make money.
Libra Finance Horoscope
The 2023 financial horoscope for Libra indicates a prosperous year for people born under the sign of Libra. When Saturn passes through your fifth house in January and scans your seventh and eleventh homes, it will be quite advantageous for your financial situation. While Jupiter will finish the work in April when he sits in the seventh house and observes your first, third, and eleventh houses, Saturn will contribute significantly to improving your financial situation this year. Because of the good influence of these planets, your financial situation will be balanced, but you'll need to work hard to keep it that way.
However, when Rahu enters your sixth house at the end of October, there is a risk that your expenditure may increase suddenly. Your financial condition could deteriorate at that time, and you would have to deal with financial issues, according to your Libra horoscope for 2023. The latter part of the year will be good for you if you want to take a financial risk.
Scorpio Finance Horoscope
According to the Scorpio financial horoscope for 2023, there will be a financial imbalance, so those born under the sign of Scorpio will have to work extra hard to put their personal money in order, for the entire year. Money will be flowing in and out at an increasing rate. Throughout the year, even though your income will increase, your costs will remain the same.
There is a chance that unnecessary expenses could devastate your financial status because Rahu and Ketu have been in these houses since the beginning of the year. There will be an increase in spending when Jupiter moves to the sixth house and sees the twelfth house but you'll find a little relief when you reach November and December. As a result you'll need to struggle to maintain your finances in balance throughout the year because there will be strong income but if you can't balance things out all of the money will be wasted.
Sagittarius Finance Horoscope
According to the Sagittarius Finance Horoscope 2023, this year will be a mixed bag for the financial aspect of Sagittarius natives. The year is likely to begin on a positive note, with some gains from unexpected sources. However, the presence of Ketu in the second house may create some financial instability and fluctuations, and it is advised to avoid making any big investments during this period.
In the month of May, things are expected to improve, and there may be some financial gains through business partnerships or collaborations. It is a good time to explore new investment opportunities, but one should be cautious and do proper research before making any financial decisions.
As Jupiter transits into the fourth house from September, it will bring some stability and a steady income for Sagittarius natives. This is a good time to invest in long-term plans and make financial commitments.
The months of November and December are favorable for Sagittarius natives in terms of financial growth and stability. There may be some unexpected gains from sources such as inheritance or lottery, but it is advised to be cautious and not rely solely on luck.
Overall, the year 2023 may have some financial challenges and fluctuations for Sagittarius natives, but with proper planning and wise investments, they can overcome them and achieve financial stability and growth. It is important to stay cautious, avoid impulsive decisions, and take calculated risks in terms of finances.
Capricorn Finance Horoscope
According to the Capricorn Finance Horoscope for 2023 based on Vedic astrology, this year will bring both positive and negative financial changes for those born under the sign of Capricorn. It is important to manage your finances carefully and plan for unexpected expenses.
In the beginning of the year, you may experience some financial instability due to the placement of Saturn in your second house. You may also face some delays in receiving payments or unexpected expenses that can cause financial stress. It is advisable to keep a budget and avoid impulsive spending during this time.
However, as Jupiter transits to your fourth house in April, there are chances of earning money through property or real estate. You may also receive financial support from your family. May and June will also be favorable for investments in property or stocks.
In the second half of the year, with the transit of Jupiter in the fifth house, there may be some gains through speculative investments or creative pursuits. However, it is important to avoid taking unnecessary risks in financial matters.
The months of September and October may bring some financial challenges and you may have to work hard to balance your income and expenses. Avoid any major financial decisions during this time.
As the year comes to an end, the transit of Jupiter in your sixth house indicates the possibility of earning through hard work and diligence. You may also receive some financial rewards for your past efforts.
Overall, the Capricorn Finance Horoscope 2023 suggests that it is important to manage your finances wisely and plan for unexpected expenses to ensure financial stability throughout the year.
Pisces Finance Horoscope
The beginning of the year will be very favorable for you and your financial balance due to the presence of Saturn and Venus on the 10th and 11th house, Sun and Mercury in the 10th house, and Jupiter is in your zodiac sign and will play an important role in your financial balance, claims Pisces Financial Horoscope 2023. This year, Pisces natives will have to deal with financial ups and downs. However, when Saturn enters your 12th house on January 17, 2023, things will start to change gradually. At that time, circumstances for expenses will arise, making it very challenging for you to maintain financial balance because some of your expenses will last for the entire year and are necessary for you to incur, so you must.
According to the Pisces Horoscope 2023, after the 22nd of April, Jupiter-Rahu will also be in the second house and begin forming Guru Chandal Yoga, which can cause problems for you from the end of April to the beginning of August. During this time, you must make the proper and appropriate financial adjustments in order for the circumstances to turn out as expected.