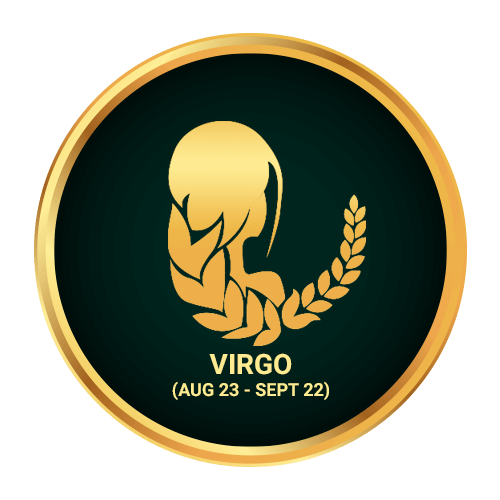 Date range: August 23 – September 22
Element: Earth
Quality: Mutable
Color: White, Yellow, Beige, Forest Green
Day: Wednesday
Ruler: Mercury
Lucky Numbers: 5, 14, 23, 32, 41, 50


Today's Horoscope
Today will be a mixed day. You cannot ignore your problems and move away as they are bound to hamper your way at one point or other. Your energy will help you to form a bright outlook. The day is favourable to express your views, opinions and desires strongly. Go after what you truly desire and you are likely to reach your goals. Try to reconnect with old pals. The feelings of love and affection will blossom between you and your partner. Health front need special attention, specially heart patients.
Monthly Horoscope
You feel an urge to break away from any kind of shackles in life during the month of November. You get to have a long look over your life decisions and even make changes in the near future. Students who are preparing for an exam may find the month to be really good for seeking new opportunities in life. Those who are planning a foreign trip in the near future may find this month to be really helpful. Financial benefits in this month is on cards but don't overwhelmed by the benefits. Personal growth: The month offers you ample opportunities to work on your weaknesses and strengthen your strong points. Career: As the Jupiter is showing favourable position and you will withstand the unlucky time. Be an opportunist and make the best out of every opportunity that you get. You will earn recognition in the eyes of seniors and boss. Business: You will have numerous sources of income and you can invest in new ventures. Creative people will do well this month.
Yearly Horoscope
Virgo Horoscope 2020 ( August 23 - September 22)
The Virgo born in the year 2020, will realize the importance of family. This year travelling is on cards. You will get support from distant relatives and friends. The importance of family in your life will help you to improve your communications with your family members and this will make your life happy.
Virgo love horoscope 2020
This year is good for reaching new heights in your love life and you can express your feelings to your partner. You can expect to get positive response in this year. Those aspiring to get into marriage, might get opportunity to go ahead. Actually time period at present is auspicious for giving your relationship another chance..
Virgo Career, Profession and work horoscope 2020
2020 is going to remain an average year professionally. The transit of Saturn can create some hurdles at your professional front. You need to keep your confidence intact so that you succeed in accomplishing your targets. Those who willing to get transfer, will get the transfer to a location of your choice. You are advised to seek the cooperation and support of your mentor. The transit of Rahu in 10th house is giving strong indications of sudden rise either salary wise or position wise on professional front.
Virgo Financial condition, Wealth, Property horoscope 2020
Financially year 2020 will prove to be an average year. 11th house in Rahu is giving indications of sudden financial gains, Eventually it will help you to get rid of your old debts. In this year, health of your parents need attention and you have to spend money for this. You will have to invest in the renovation of your old house. You wanted to spend money on property, postpone this decision for some time. It is not advisable that you invest on your new property. Good time will come after 13rd October.
Virgo Business horoscope 2020
It would prove to be an average year for your business. Saturn in 4th house doesn't appear to be favorable for your business. Your peace of mind will be gone. There are indications of sudden eruption of difference of opinion with business partners and chances you will get loss due to this. You are advised to keep patience otherwise it would become bit difficult for you to take situation under control.
---
General
Traits
Strengths: Loyal, analytical, kind, hardworking, practical
Weaknesses: Shyness, worry, overly critical of self and others, all work and no play
Virgo likes: Animals, healthy food, books, nature, cleanliness
Virgo dislikes: Rudeness, asking for help, taking center stage
Compatibility
Greatest Overall Compatibility: Taurus, Capricorn
Best for Marriage and Partnerships: Pisces