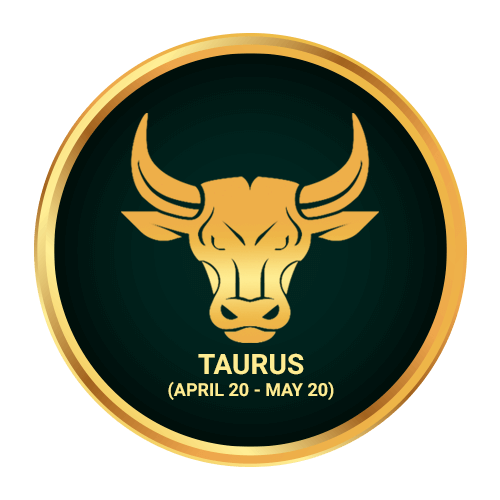 Date range: April 20 - May 20
Element: Earth
Quality: Fixed
Color: Blue, Pink, Green
Day: Friday, Monday
Ruler: Venus
Lucky Numbers: 2, 4, 6, 11, 20, 29, 37, 47, 56

Today's Horoscope
Today is a day to celebrate your parenthood and welcome a new member in the family. Also good day to put away your past differences with someone close to you. Get a bigger heart and forgive whatever wrong happened between you two. At professional front, cards are showing stable position. You will get monetary gains but don't overspend. Singles will meet someone special today. Overall day will be satisfying.
Monthly Horoscope
Your family may face certain difficulties. This may bring you down but you will be able to accomplish peace and harmony between the family members. Remember one thing in life that efforts never go. Immediate things happening in your might be sounding poor to you but will give you benefits in long run. Family is your first and foremost responsibility. You may be disappointed at your partner but they love you and always care about you. Communication can solve all the big problems. On a project some difficulties due to certain circumstances, you have not been able to get positive results. But by the kid of the month, stars position is changing and you will benefit out of it . Personal growth: Personal growth is never related with perfectionism. Nobody is perfect and you will get it over a period of time. Career: This month is going to help you make new changes to your career. Special attention is to be given to the finer details that are required in your job else your seniors and colleagues will leave you behind in the race. Job transfer is expected. Business: Saturn- Ketu position in twelfth house will hamper growth of your business. Try to indulge yourself into any contractual businesses or agreements. Business involving Land and house purchase will give good benefits. Financial profit is on the cards. this month you will get recognition also .
Yearly Horoscope
Taurus Horoscope 2020 (April 20 - May 20)
The year 2020 will prove to be wonderful for you as the aspect of Jupiter on lagna would bring good luck and as a result you shall be happy and healthy. As a Taurus born, challenges will come to your way but your feet will remain firm throughout the year and you will keep your eyes on the prize.
Taurus love horoscope 2020
This would prove to be an average year for your love life. In the beginning of the year, your relationship will sail through normal circumstances. After mid of April, your relationship will get affected badly and at that time you are advised to keep your patience, tolerance and resistance intact. Control your speech as unnecessary argument might affect your relationship with your partner.
Taurus Career, Profession and work horoscope 2020
Your working efficiency shall get enhanced and you would be thinking positively. For the improvement of work environment, you would be following discipline and your life principles religiously. If at all there would be some chance of unstability, then also you need not worry as quick recovery can also be expected.
Taurus Financial condition, Wealth, Property horoscope 2020
Financially it won't be a great year as you are likely to face difficulties in the way of your financial progress and some sudden expenses would affect your savings. Don't make investment in a hurry and if you are fighting a legal battle regarding your parental property then its decision can also go against you. Transit of Rahu in house of wealth can create financial problems for you. You are likely to get into losses therefore you are advised not to lend money and be cautious in financial transactions and investment.
Taurus Business horoscope 2020
This is going to be an auspicious year for your business. The transit of Jupiter in house of business will get you into a new partnership venture. You can also start some new business venture. After 23rd April and till 3 June, there is probability of change of location or change of partner of your business which probably won't be of your choice. During that time you should stay away from getting into any type of argument otherwise you might become the victim of depression.
---
General
Traits
Strengths: Reliable, patient, practical, devoted, responsible, stable
Weaknesses: Stubborn, possessive, uncompromising
Taurus likes: Gardening, cooking, music, romance, high quality clothes, working with hands


Taurus dislikes: Sudden changes, complications, insecurity of any kind, synthetic fabrics
Compatibility
Greatest Overall Compatibility: Virgo, Capricorn
Best for Marriage and Partnerships: Scorpio