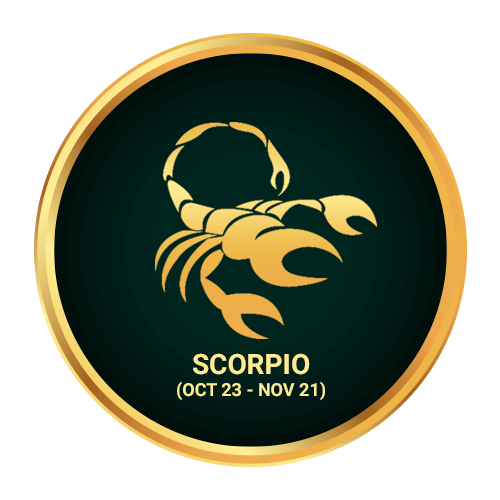 Date range: October 23 - November 21
Element: Water
Quality: Fixed
Color: Scarlet, Red, Rust
Day: Tuesday
Ruler: Pluto
Lucky Numbers: 9, 18, 27, 36, 45, 54, 63, 72, 81, 90


Today's Horoscope
Balance is the agenda of the day. Your body, mind, work-life, everything will have some sort of balance today. Initially, you might feel non-connected to the day and yourself but as the day goes on you will be having good experiences. For resolving outstanding financial matters, this day is the best. You have the correct intuitions as the stars are guiding you in the perfect direction and great results are expected.
Monthly Horoscope
This month, a new beginning on the professional front, changing jobs or adopting a new working style, buying a new property for work, etc. After completion of the initial delays in the works, I will feel a sense of relief. There will be a favorable environment in the job and colleagues will be supported. Keep in mind that there is no tension in partnership activities for any reason. Trying to maintain confidence among you, you will be able to move at double speed in your work. Do not be hasty in making any shared decisions. Due to the harsh speech of the person in front, your mind may get upset, so learn to bear. There is nothing like tension in the relationship right now, but there may be a little temper like your loved one or spouse. In the latter, there will also be a possibility of a clash of ego between you. There seems to be potential for government benefits. Students will have some pressure in practice due to project work and terminal examinations.
Yearly Horoscope
Shani Dave will be sitting in your third house all year long. Mars, Venus, Mercury, Guru, and Syria Dev will affect you in different ways throughout the year. Your confidence will increase this year. Try to complete important tasks within the first months. Try to complete family affairs before May. The transition of Guru's zodiac sign in the fourth half will increase the partial discomfort. This year, you will be able to reduce your expenses and save your money. This year will be tough in terms of education. Additional study and learning time are required. Results will be moderately better in the primary half. School students will do better.
---
General
Traits
Strengths: Resourceful, brave, passionate, stubborn, a true friend
Weaknesses: Distrusting, jealous, secretive, violent
Scorpio likes: Truth, facts, being right, longtime friends, teasing, a grand passion
Scorpio dislikes: Dishonesty, revealing secrets, passive people
Compatibility
Greatest Overall Compatibility: Cancer, Pisces
Best for Marriage and Partnerships: Taurus