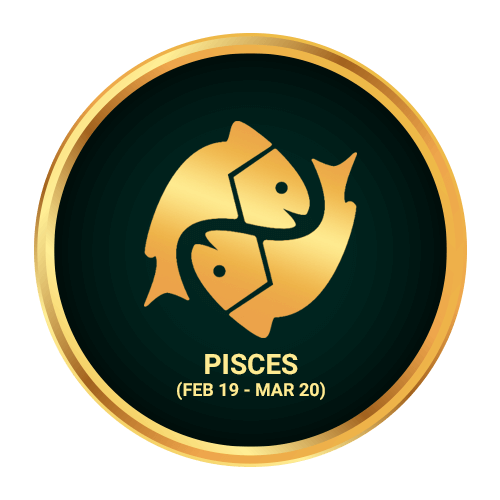 Date range: February 19 - March 20
Element: Water
Quality: Mutable
Color: Mauve, Lilac, Purple, Violet, Sea green
Day: Thursday, Monday
Ruler: Neptune
Lucky Numbers: 3, 7, 12, 16, 21, 25, 30, 34, 43, 52

Today's Horoscope
Today believe in your ideas before believing in anything else. New paths are ready to welcome you. in your work life, unexpected support is on your way and you should accept it without reactions and any ideas of reserving it for later issues. You need some financial security but do not be too focused just about it. access of everything is bad so just analyze and try to find ways through which you will be able to do that rather than worrying and cribbing about how this happened to you and how will you be able to deal with it. you can, yes you will.
Monthly Horoscope
In the initial phase this month, keep a little attention on the professional front. People in service should not fight against superiors. Do not take decisions contrary to their wishes. In business also, work carefully because of the possibility of failure in the work of the court or due to delay due to legal betting. Unnecessary expenses will increase. Cases related to ancestral property will be resolved at a later stage. For the past fortnight, for business purposes, various people will have to meet and new contacts will be formed. In the later phase, there will be an atmosphere of overall happiness and peace in the family, yet in the first phase, your harsh speech may be the reason for someone's sorrow. There are also benefits to Dhanalab this month. Meeting with Priapatra will make you feel different and will bring mental relief as well as happiness. You will be able to express your heart in a very effective way and this will also help the person in front of you in the relationship.
Yearly Horoscope
This year, Shani will be sitting in your eleventh house. Thanks to Guru's blessing, much of your stalled work will be completed this year. You will be financially strong this year and also have the full backing of luck. You will get good results in your career. You will get business success. The start of the year will be good and it will develop and expand in all areas. Try to complete important tasks before April. The success rate will continue to improve due to the spread of luck. The old cases will be in your favor. Relationships will improve. Investments will be boosted. In matters of love this year you must maintain patience and faith.
---
General
Traits
Strengths: Compassionate, artistic, intuitive, gentle, wise, musical
Weaknesses: Fearful, overly trusting, sad, desire to escape reality, can be a victim or a martyr
Pisces likes: Being alone, sleeping, music, romance, visual media, swimming, spiritual themes
Pisces dislikes: Know-it-all, being criticized, the past coming back to haunt, cruelty of any kind

Compatibility
Greatest Overall Compatibility: Cancer, Scorpio
Best for Marriage and Partnerships: Virgo