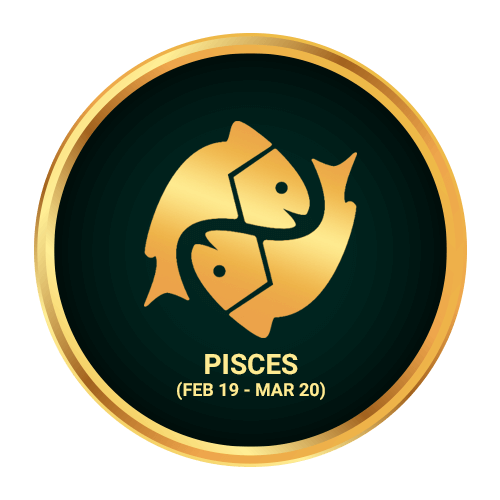 Date range: February 19 - March 20
Element: Water
Quality: Mutable
Color: Mauve, Lilac, Purple, Violet, Sea green
Day: Thursday, Monday
Ruler: Neptune
Lucky Numbers: 3, 7, 12, 16, 21, 25, 30, 34, 43, 52

Today's Horoscope
Due to mercury movements with Pluto, there will a lot of restless in your relationship. Don't jump to a conclusion, apply your mind. Your expectations will disappoint you and you have to bear loss. Please keep a check on your own capabilities, then set your goals. Avoid taking any major decision. Today is perfect day for family. Spent good time with family and this will keep you happy and satisfied. Professional front will be little unstable some monetary gains are expected.
Monthly Horoscope
Till 16th of November, you may have to work harder to achieve things in life. You may feel as if people around have only one mission of hurting your feelings. Well, this is not correct and you have to work on your aspect of judging people easily. Oversensitive people may find the month harder as compared to the previous one. You also need to work on your emotional self to improve your life condition. Personal growth: The month will help you stabilize in your financial life and will help you in increasing your personal skills. Career: A small change can have a huge impact on your life because pervious obstacles which were coming in your career path will be called off. Your dedication and consistent efforts will benefit your organization and you will receive higher profits in comparison to the previous month. Business - Do not intend to put your feet in any sort of investment and banking business venture. In the event that you are involved in a business with your relative, there are sure shot chances of disagreement and conflicts between both of you. You can intend to proceed with a new business idea after 6th November 2019.
Yearly Horoscope
Pisces Horoscope 2020 (February 19 - March 20)
Pisces Horoscope 2020 Overview
Year 2020 will be full of positivity and enthusiasm. Your aura of mystique will be significantly bring difference in 2020. Due to so much people around you, you might get deviated from your focus. You need the vision to see yourself for who you truly are. You are required ME time. to bring peace in your life, stay away from gossipmongers. You are a people's person, that is the true you.
Pisces love horoscope 2020 -
From love point of view it would be a favorable year. In the relationship, you shall be getting support of from your partner. Be cautious about the health of your spouse. The favorable transit shall produce excellent results in the enhancement of your relationship and this will boost your relationship to a new level.
Pisces Career, Profession and work horoscope 2020
Professionally this year is promising stability, security and balance. Your credibility as a professional would go on increasing. You shall rise with the power of your destiny and Karma. Those in job shall earn reputation and progress and might get transferred. Work cautiously in matters related to property otherwise you would get into losses.
Pisces Financial condition, Wealth, Property horoscope 2020
Financially year 2020 would be an average year. The stability in professional life and business life would make your financial position strong. Inflow of money would be satisfactory enough to meet your expenses. You will have to spend large amount on celebration of some auspicious ceremony in the family. You will have to go for purchase of house, land & vehicle etc. In the beginning of the year you might plan to build a new office for your work.
Pisces Business horoscope 2020
The beginning of the year won't be very auspicious for business persons. You would be disinterested in continuing your business but you need to adopt optimistic approach. Possibilities of being successful in business are not much . The transit of Jupiter would activate your destiny, extension of help from your partners and family will bring you good luck. The pursuit of some new venture is likely to gain momentum.
---
General
Traits
Strengths: Compassionate, artistic, intuitive, gentle, wise, musical
Weaknesses: Fearful, overly trusting, sad, desire to escape reality, can be a victim or a martyr
Pisces likes: Being alone, sleeping, music, romance, visual media, swimming, spiritual themes
Pisces dislikes: Know-it-all, being criticized, the past coming back to haunt, cruelty of any kind

Compatibility
Greatest Overall Compatibility: Cancer, Scorpio
Best for Marriage and Partnerships: Virgo