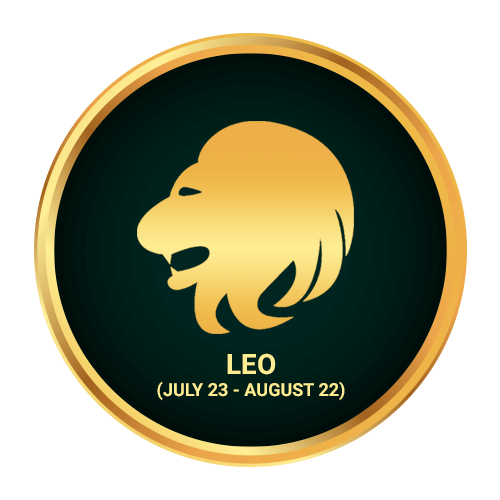 Date range: July 23 - August 22
Element: Fire
Quality: Fixed
Color: Gold, Orange, White, Red
Day: Sunday
Ruler: Sun
Lucky Numbers: 1, 4, 10, 13, 19, 22

Today's Horoscope
Today you will be a good day. Your strong intuition will help you to make all the right decisions for sure. You are ready to take some risks. Future investment plans and expansion plans will reap you benefits. The air may be filled with emotions today. Good time to enjoy with your loved ones. Singles go on a date with your partner. Spoil your partner with all attention. Financial gain is expected but don't overspend. Health is wealth and this is the mantra for today. Something in blue will bring you luck today.
Monthly Horoscope
You may have to work hard towards your increasing possessiveness. The month may bring some good news concerning your work place. Avoid getting into any kind of debt or spending unnecessarily on useless products. You may even feel an urge to get into new things and learn new skills. The month may be good for working hard to get that promotion in office and getting nearer to your boss. Family and financial front will become strong. Health front will be disturbed for parents, so take care of them. A long trip is also on the cards. Personal growth : It is very important to be aware of all these things so that you can find alternate courses of actions to your troubles. Career: Your career graph may show an upward line as compared to the previous month. You will get advantage from people working in big and small firms. Although big challenges will come your way but you will face them and will achieve high levels of success. Business: Concentrate on your success mantra and go ahead with the new new expansion plans.
Yearly Horoscope
Leo Horoscope 2020 (July 23 - August 22)
Leo Horoscope 2020 Overview
For the Leo born, the North Node in your sign will ask for ME time. Primarily you need to focus on self care and self time. You need to prioritize your own needs. Self-reflection, me-time and in 2019 will help you to come out of your past problems and worries. You can also plan some long trip during the summer months. You will feel refresh and rejuvenate. The new insights into yourself will help you build confidence in you and you will grow as a person.
Leo love horoscope 2020
Year 2020 for your love life will be wonderful. There would be an atmosphere of love and affection through the year. Peace and harmony will mark your year and you shall see stability in your relationship. If you are planning to marry your lover, you can definitely expect the support of parents and family. This year there is strong probability that couples will get the good news of child birth.
Leo Career, Profession and work horoscope 2020
Year 2020 is going to turn out to be a great year professionally. The aspect of Jupiter on 10th house would bring progress in your professional front. You efforts would get support and cooperation from seniors. If you are thinking to switch your profession into share market and speculation, likely to get benefitted. You would be getting opportunity to work with big organization. Your work efficiency and your performance shall rise in your area of work. Promotion is on cards.
Leo Financial condition, Wealth, Property horoscope 2020
Financially, year 2020 would be a favorable year. Continuous inflow of money will likely to improve your financial condition. Purchase of a new house or vehicle is on cards. Sudden financial gain will help you to repay your loans. Your blocked money will also released. too.
Leo Business horoscope 2020
The worries related to business would come to an end. The investment in business would certainly prove to be profitable. You would be enjoying the cooperation of your partners. You will be cooperative and this attitude of yours is beneficial for earning better financial gains. The current time period is suitable for making investment. This year if you start any new venture in the technical field, technology and science field, you will get the success. The credibility of your business would go on increasing.
---
General
Traits
Strengths: Creative, passionate, generous, warm-hearted, cheerful, humorous
Weaknesses: Arrogant, stubborn, self-centered, lazy, inflexible
Leo likes: Theater, taking holidays, being admired, expensive things, bright colors, fun with friends
Leo dislikes: Being ignored, facing difficult reality, not being treated like a king or queen
Compatibility
Greatest Overall Compatibility: Aries, Sagittarius
Best for Marriage and Partnerships: Aquarius