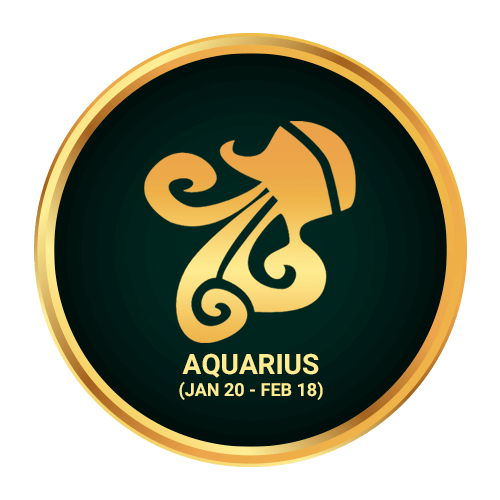 Date range: January 20 - February 18
Element: Air
Quality: Fixed
Color: Blue, Blue-green, Grey, Black
Day: Saturday, Sunday
Ruler: Uranus
Lucky Numbers: 4, 8, 13, 17, 22, 26


Today's Horoscope
It is a bold day for you as stars are aligned in such a way that your strong, risky and important decisions can be successfully taken today. Ask out that crush of your, buy those shares or invest wherever you want to. Just don't fear anything and work in the field you wanted to work. The energy that surrounds you today will help lift your life. Excellent opportunities for investments are available. Listen to your instinct before anything else and you will get the desired results.
Monthly Horoscope
This month, you will benefit from whatever work you do due to the sum of economic benefits. Single people can propose someone. Keep some restraint in the speech, otherwise slipping the tongue will spoil the bet. Workers will be supported in the job. Opponents will throw straight dice, but it will reverse. Along with resolving foreign affairs, doing business or employment with foreign companies will bring huge economic benefits. You have to go out in connection with office work. People in the workplace will appreciate your work. You will develop a love for someone special in your heart, you will be happy to meet with friends and loved ones. I will be happy to get news of the affectionate from abroad. You can enjoy delicious food with friends or loved ones to celebrate success. Overall would be a good phase for the students. Most of the time, you will feel energetic and healthy. The health of the sick person will feel improved.
Yearly Horoscope
In 2021, Rahu will affect his fourth house and Ketu in the tenth house. The first half and half of Shani Dev's stage brought unexpected results for you. May all your wishes come true this year. This year will be more convenient and auspicious for you. In 2021, it will lay the groundwork for great plans. Time will be more positive after April. Your opponents will be calm. Joint efforts will gain momentum. This year gradually auspicious in the field of education. The clarity of the target will increase. Results will be more positive in the next academic session. Employees must be very focused on maintaining their position. The percentage of results in the first half can be normal compared to the hard work you do. Do not make hasty decisions about new proposals. Conditions will be more positive in the second half.
---
General
Traits
Strengths: Progressive, original, independent, humanitarian
Weaknesses: Runs from emotional expression, temperamental, uncompromising, aloof
Aquarius likes: Fun with friends, helping others, fighting for causes, intellectual conversation, a good listener
Aquarius dislikes: Limitations, broken promises, being lonely, dull or boring situations, people who disagree with them

Compatibility
Greatest Overall Compatibility: Gemini, Libra
Best for Marriage and Partnerships: Leo