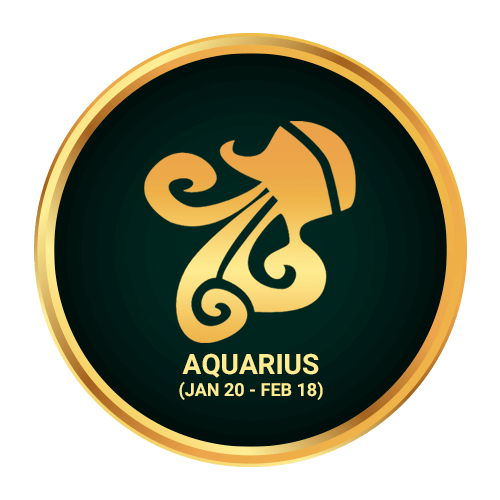 Date range: January 20 - February 18
Element: Air
Quality: Fixed
Color: Blue, Blue-green, Grey, Black
Day: Saturday, Sunday
Ruler: Uranus
Lucky Numbers: 4, 8, 13, 17, 22, 26


Today's Horoscope
Perfect day to start with fitness goals . Healthy mind and health body are signs of healthy life. Small trip with family in on charts, go out with family and just enjoy good time with them. Businessmen, don't go for a new venture today, stars position is moving and can cause you harm. Couples, feelings of love and affection will shower your life. Couples will engage in romance. New hopes will come into your life. Professionals trusting someone in office is good but sharing about your personals could hurt you, avoid doing that.
Monthly Horoscope
The month brings along good news, good luck, and charm in your life. Your pleasing nature earns you good friends and you are able to impress people around. Your generosity, happiness, and love for life increases during the month. Those involved in the banking sector may find the month to be exciting and effectual. You need to change a little bit to increase excitement in your life during the month. Personal Growth: Your charming nature will earn you new opportunities and meet new connection during the month. Career: You can face difficulty in office and most of this difficulty will be over by the mid of the month. Don't take anything personally, politics is just a part of your office environment. If there comes a new job opportunity, double cross check all the pros and cons of opportunity. If you will go for this job change, it will definitely bring some major changes in your life. Business - This month is going to be the best month of the year and your business will reach to high levels of success. You can try and invest in new venture. People in the engineering business will flourish tremendously. Do not allow negativity to engulf you.
Yearly Horoscope
Aquarius Horoscope 2020 (January 20 - February 18)
Aquarius Horoscope 2020 Overview
The year 2020 will bring in changes to your life. Being the Aquarius born are rebellious, you will not accept the social norms. You have to sail through a lot of difficulties. You have to make a fresh look in you and ensure that you are a rebel with a cause. Start respecting others perspective, even if you don't want to follow them. Make your own rules and take time out to understand why they do not work. You require disciple in your life, even if it is strictly by your own standards.
Aquarius love horoscope 2020
It would bring in mixed results for your love life. You shall have to face issues and troubles related to your relationship status in society. For the fitness of your spouse health, spend some time with them. If at times you are feelings something is going wrong in your relationship, just clear the air. Communication is the best way to get solution of problems. You might suffer from mental tensions.
Aquarius Career, Profession and work horoscope 2020
Year 2020 would be to be an auspicious year for professional life. You shall have to face continuous hurdles in professional life, but keep your confidence intact. Don't involve yourself into any kind of speculative deal and share market business. Your enemies might create difficulties for you so be cautious. Transit of Jupiter will bring growth and expansion in business and promotion in job. Those working in property related work, shall earn gains.
Aquarius Financial condition, Wealth, Property horoscope 2020
Financially it would be an average year. The Saturn placed in 11th house in transit is favorable for stable inflow of money. Your blocked money will be released. Don't get yourself involved in any speculative deals, it would bring in financial losses. You need to work hard for the improvement of your financial position. This year you would be spending money on the purchase of vehicle, construction of house and the marriage of somebody at home. This is a good time for investment.
Aquarius Business horoscope 2020
The first half of the year is excellent for your business. Rahu of 6th house is auspicious for getting success in new business deal but after 23rd march the transit of Rahu in 5th house would be creating obstacles for your business. You can get yourself engaged in any profitable deal with a new female partner.
---
General
Traits
Strengths: Progressive, original, independent, humanitarian
Weaknesses: Runs from emotional expression, temperamental, uncompromising, aloof
Aquarius likes: Fun with friends, helping others, fighting for causes, intellectual conversation, a good listener
Aquarius dislikes: Limitations, broken promises, being lonely, dull or boring situations, people who disagree with them

Compatibility
Greatest Overall Compatibility: Gemini, Libra
Best for Marriage and Partnerships: Leo