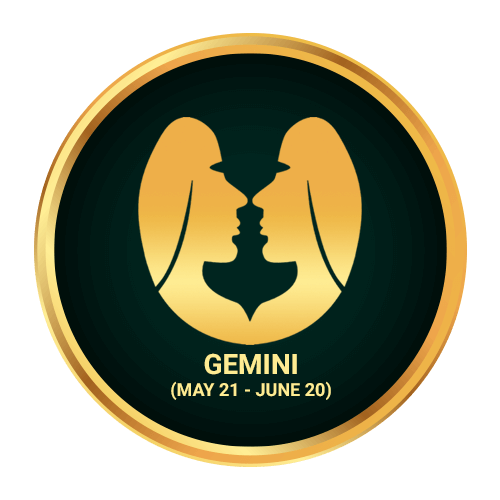 Date range: May 21 - June 20
Element: Air
Quality: Mutable
Color: Green, Yellow
Day: Wednesday
Ruler: Mercury
Lucky Numbers: 3, 8, 12, 23
Today's Horoscope
An unlikely experience is waiting for you today. However, you need not worry as it is going to be a positive one. Moreover, it will be from an unexpected source. In fact, the particular experience may bring about a change in your outlook towards important aspects of life. It is also a good day to put your creative ideas to use.
Monthly Horoscope
The first two weeks of the month may require you to spend more time in your office than your home. This may give rise to some kind of imbalance between your personal and professional life. However, the last two weeks will come up with opportunities to freshen up and even go on a holiday with your loved ones. Your charming nature may earn you new friends during the month. Your financial sector looks satisfactory during the month.
Personal growth: The month brings along ample of growth opportunities, both at home and office.
Yearly Horoscope
Overview
The planets are in constant movement in 2019 and this will have a significant effect on your life. Be aware that most of what you experience this year will give you significant insight into yourself and allow you to grow as a person. You will find yourself ignored and alone for a while. However, if you find fun and creative outlets to express your sentiments and thoughts, you will be enhanced as an individual. Self-awareness is the overriding theme of 2019, and your awareness of who you truly are will be unsettling at times, but it's definitely better than self-denial.
Romance
Venus and Jupiter will be thick as thieves in 2019 and this will set the romantic tone for your year as well. You will find old flames being reignited or you may even meet a mysterious new stranger. Power balance in your relationships will be integral in 2019. While relationships are best maintained when two individuals meets on an equal footing, you must ensure that you are not the underdog in your romantic life in 2019.
Career
The year 2019 might bring some disillusionment with the trajectory your career seems to be going in. The lack of new and exciting prospects will frustrate you. However, it's best that you stick to the grind and put financial stability over pipe dreams and aspirations. A lot will depend on you bringing in the bread, so stick to your career path and time will reward you.
---
General
Traits
Strengths: Gentle, affectionate, curious, adaptable, ability to learn quickly and exchange ideas
Weaknesses: Nervous, inconsistent, indecisive
Gemini likes: Music, books, magazines, chats with nearly anyone, short trips around the town
Gemini dislikes: Being alone, being confined, repetition and routine
Compatibility
Greatest Overall Compatibility: Libra, Aquarius
Best for Marriage and Partnerships: Sagittarius