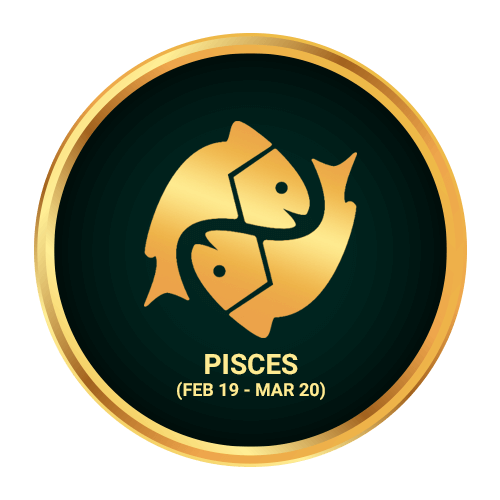 Date range: February 19 - March 20
Element: Water
Quality: Mutable
Color: Mauve, Lilac, Purple, Violet, Sea green
Day: Thursday, Monday
Ruler: Neptune
Lucky Numbers: 3, 7, 12, 16, 21, 25, 30, 34, 43, 52

Today's Horoscope
You want to relax and just sit on your couch and eat some fries in the evening. However, your friends and loved ones are not in a mood to leave you and go anywhere. Thus, your wish to spend some alone time with yourself will not be fruitful this weekend at least. Your partner also wants to spend some quality time with you.
Monthly Horoscope
The month will start with a good financial period. However, it may create some problems in the latter weeks of the month. You need to cautious about signing any new financial deal. It is better to seek an advice before entering any joint venture. The month is good for those who are involved in healthcare sector. Your love life will blossom during the month and some of you may even get married during the month.
Personal growth: Good opportunities will come your way during the month and will even increase your financial gains.
Yearly Horoscope
Overview
People flock to you owing to your aura of mystique which will be significantly amplified in 2019. While you are bound to enjoy positive attention in 2019, you may lack the vision to see yourself for who you truly are. Your need for a positive self-image will thus be priority in 2019. You are required to bridge the gap between what people perceive you to be and how you feel about yourself, draw from your public image and understand that it is not a facade. You are a people's person, that is the true you.
Romance
If your shyness is getting in the way of you and an exciting love life, the North Node in Cancer will bring relief and help you shed your inhibitions. You will find yourself to be rather adventurous and more willing to explore, romantic side of your life. 2019 is bound to be a year of romantic discovery for you.
Career
Your dreams will be the focus of 2019 and while others may not encourage you to proactively pursue your ambitions, you need to find the motivation within yourself. For everyday you spend at the office, toiling and laboring, you will only be closer to your career dreams in 2019.
---
General
Traits
Strengths: Compassionate, artistic, intuitive, gentle, wise, musical
Weaknesses: Fearful, overly trusting, sad, desire to escape reality, can be a victim or a martyr
Pisces likes: Being alone, sleeping, music, romance, visual media, swimming, spiritual themes
Pisces dislikes: Know-it-all, being criticized, the past coming back to haunt, cruelty of any kind

Compatibility
Greatest Overall Compatibility: Cancer, Scorpio
Best for Marriage and Partnerships: Virgo