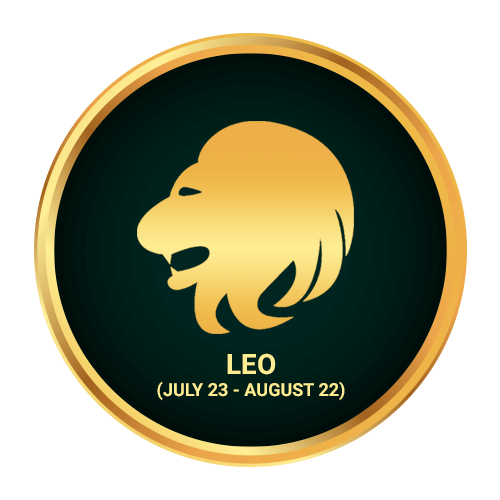 Date range: July 23 - August 22
Element: Fire
Quality: Fixed
Color: Gold, Orange, White, Red
Day: Sunday
Ruler: Sun
Lucky Numbers: 1, 4, 10, 13, 19, 22

Today's Horoscope
You need to pay your debts, they may be religious, spiritual, or mental. You may even have to go that extra step to settle this debt of gratitude. However, this does not imply that all your obligations would be covered today. Though you would be relieved of atleast taking off some burden from your shoulders but it may take a toll on your inner peace today.
Monthly Horoscope
The month gives you chances to increase pampering toward your loved ones. Peace and harmony increases in your life. Your career graph shows a positive line. Your investments show ample of positive gains and you are inspired to make new ones. This is an excellent time to make new friends and increase your social circle. Your business sense grows and you can witness a high growth in your business profits, especially after 15th of February.
Personal Growth: There is a major aspect in your life that needs you to work hard. However, you have been ignoring it since long but the month will require you to pay attention towards it.
Yearly Horoscope
Overview
For the Leo born, self care will be the annual theme for 2019 with the North Node in Cancer. This primarily means that you need to prioritize your own needs. You will definitely benefit from self-reflection, me-time and pampering yourself in 2019. A little travel during the summer months will do you good, it will refresh and rejuvenate you and give you new insights into yourself. Surely, self-introspection will surprise and unsettle you. However, it will definitely help you grow as a person.
Romance
In the year 2019, you will have to be extra careful to differentiate between your romantic fantasies and reality. You have an inclination to go overboard on the love front and you will have to reign in your impulses. Failing to do so will result in disappointment and confusion. Study the veracity of what seems like exciting romantic prospects before diving head in and you will avoid a broken heart. For those in long term relationships, your romantic fantasies will give a new lease of life to your relationship. However, everything is best in moderate doses.
Career
Keep your work boots on, as work will prove to be hard and heavy in 2019. However, the rewards will be substantial, you just have to wait for it. Capricorn will experience two solar eclipses and one lunar eclipse, which will enhance your work life. You will find yourself kicking bad work habits and incorporating positive work ethics. With Uranus in Taurus, you may be disillusioned by your job but hold off on a major change as Uranus is stagnant for the next 7 years. 2019 is just not a good time for radical career changes.
---
General
Traits
Strengths: Creative, passionate, generous, warm-hearted, cheerful, humorous
Weaknesses: Arrogant, stubborn, self-centered, lazy, inflexible
Leo likes: Theater, taking holidays, being admired, expensive things, bright colors, fun with friends
Leo dislikes: Being ignored, facing difficult reality, not being treated like a king or queen
Compatibility
Greatest Overall Compatibility: Aries, Sagittarius
Best for Marriage and Partnerships: Aquarius