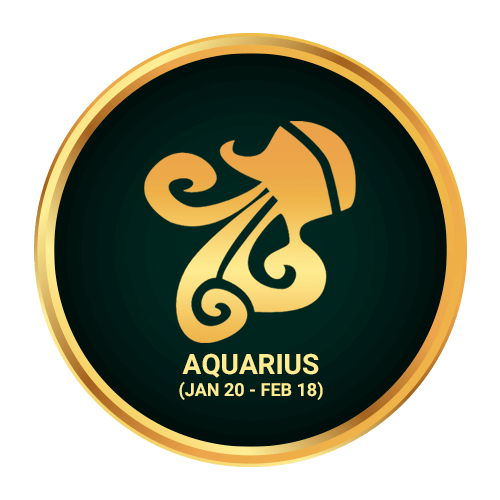 Date range: January 20 - February 18
Element: Air
Quality: Fixed
Color: Blue, Blue-green, Grey, Black
Day: Saturday, Sunday
Ruler: Uranus
Lucky Numbers: 4, 8, 13, 17, 22, 26


Today's Horoscope
You need to act quickly if you want to grab some good opportunities. Cosmic stars have been granting you immense benefits in the form of good opportunities. However, due to your lazy nature, you are not able to grab them in time. Try to act swiftly and make important decisions as early as possible. This even goes for your love life as well.
Monthly Horoscope
Time between 10th of February and 20th February is perfect if you are looking for a new relationship. For those who are seeking a person to get married, the month may bring in some positive results. You will remain satisfied with your professional growth and want to enjoy the peaceful phase during the month. Stars are working in your favor and getting you all the good things in life.
Personal growth: The month is excellent for enjoying good things in life.
Yearly Horoscope
Overview
The Aquarius born are prone to rebellion and often refuse to conform to social norms. In 2019, you need to take a fresh look at the rebel in you and ensure that you are a rebel with a cause. If you need to ignore social constructs, take time out to understand why they do not work and make your own rules accordingly. When you do have your own set of rules, honor them. You require disciple in your life, even if it is strictly by your own standards.
Romance
As rebellious as you may be, you cannot escape the effects of the stars, sun, moon and the planets. The eclipses in your sign and Leo, has had a considerable impact on your romantic life in the last few years. A Leo Lunar eclipse on January 20 will bring about the end of a romantic relationship. However, be ready for logic and reasoning in the face of a sad end, as one end beckons a new beginning for you.
Career
The year 2019 will bring about a need to balance your expenses. You will find that money is easy to come by but do not let it slip out of your hands easily. Instead, prioritize your expenditures and divert a part of your income into savings and investments. Work will be largely rewarding in 2019 and though the transit of Saturn will have some effects in terms of radical changes, you will be up for the challenges that come with career upheaval.
---
General
Traits
Strengths: Progressive, original, independent, humanitarian
Weaknesses: Runs from emotional expression, temperamental, uncompromising, aloof
Aquarius likes: Fun with friends, helping others, fighting for causes, intellectual conversation, a good listener
Aquarius dislikes: Limitations, broken promises, being lonely, dull or boring situations, people who disagree with them

Compatibility
Greatest Overall Compatibility: Gemini, Libra
Best for Marriage and Partnerships: Leo